Register Now For Fire Performance of Construction Membranes
Register now to save your place for our forthcoming 30-minute webinar, "Fire Performance of Construction Membranes" which takes place on Friday, 28th of January at 10 AM.
This webinar will cover the following topics:
Fire science basics
Reaction to fire testing and classification
Building regulations requirements
Fire-rated construction membrane types
This webinar is followed by a Live Zoom Q&A session hosted by our Managing Director Keira Proctor, alongside our team of technical experts.

Register now to make sure you don't miss out.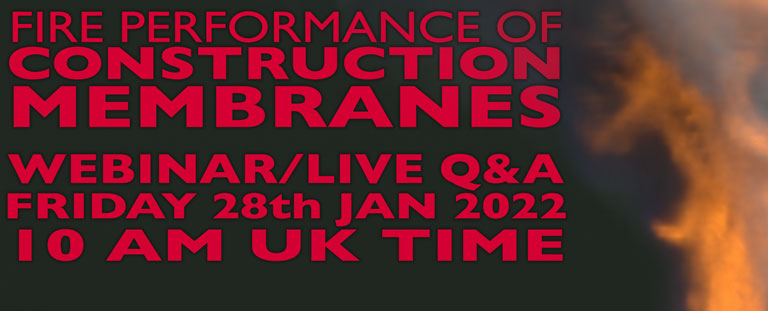 Webinar Product Sample Pack
If you would like us to post you out a pack containing samples of the materials discussed in today's webinar, please click the button below.
Free Sample & Brochure Pack
Book An Online Meeting
Our team are available to take online meetings (usually via the Zoom platform) at a date & time that suits you. We are happy to discuss project specific questions, review drawings, assist with specifications, documentation, calculations or anything else you need. Use the button below to start the process and we'll get back in touch soon.
Book An Online Meeting
Webinar Certification
Collect personalised CPD certification after you've viewed our webinar. This service downloads a PDF certificate which will appear at the bottom of your browser & be saved in your downloads folder.
Claim Your CPD Certificate
Webinar Feedback
We love getting your feedback. Regardless of whether you've enjoyed our webinar, or think there's something we could work on, please let us know by completing our feedback form.
Give Feedback
CAD Detail Review
Use this service to check that your detailing is correct. Upload your drawings & we'll review and comment on them. Click below to get started.
Request CAD Detail Review
Technical Submittal & Specification Check
Ensuring that materials are correctly specified prevents potential future problems. We're here to assist with correct specification & documentation for your specific project.
Request Check
Thermal & Condensation Calculation
Demonstrating the thermal performance of a building element, or that the specified construction does not carry an interstitial condensation risk, are important steps in the design and approval process. Get project specific calculations with this service.
Request Calculation