Register Now For Panel Discussion: Retrofit for the Future
Register now to save your place for our forthcoming panel discussion, "Retrofit for the Future" which takes place on Friday, 09th of December at 10AM. Hosted by Keira Proctor, our guest panellists are:

Stephen Hodgson – CE of Property Care Association and UKCMIB
Jeff Colley – Editor / Publisher – Passive House Plus Magazine
Christina Gaiger – Edinburgh Architectural Association
Jon Stinson - Director at Building Research Solutions Ltd + Chair CIAT Scotland
Iain Fairnington – Technical Director, A.Proctor Group
This webinar will cover the following topics:
Fit for purpose? But what purpose?
Can we afford to put off retrofit? Will economics beat legislation to net-zero.
The retrofit spectrum, achieving a realistic balance of fabric, technology and performance.
Can the industry scale to deliver best practice design?
The panel will then take audience questions.

Register now to make sure you don't miss out!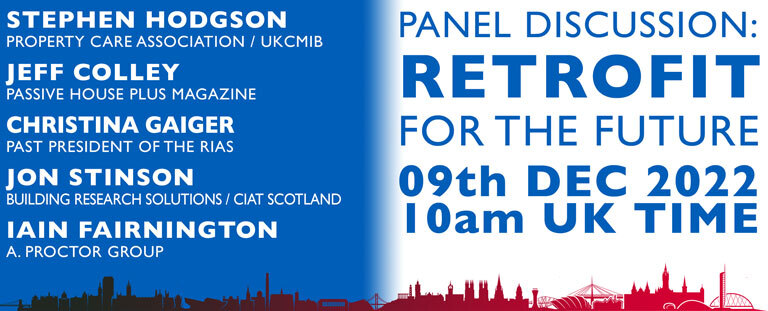 Webinar Product Sample Pack
If you would like us to post you out a pack containing samples of the materials discussed in today's webinar, please click the button below.
Free Sample & Brochure Pack
Book An Online Meeting
Our team are available to take online meetings (usually via the Zoom platform) at a date & time that suits you. We are happy to discuss project specific questions, review drawings, assist with specifications, documentation, calculations or anything else you need. Use the button below to start the process and we'll get back in touch soon.
Book An Online Meeting
Webinar Certification
Collect personalised CPD certification after you've viewed our webinar. This service downloads a PDF certificate which will appear at the bottom of your browser & be saved in your downloads folder.
Claim Your CPD Certificate
Webinar Feedback
We love getting your feedback. Regardless of whether you've enjoyed our webinar, or think there's something we could work on, please let us know by completing our feedback form.
Give Feedback
CAD Detail Review
Use this service to check that your detailing is correct. Upload your drawings & we'll review and comment on them. Click below to get started.
Request CAD Detail Review
Technical Submittal & Specification Check
Ensuring that materials are correctly specified prevents potential future problems. We're here to assist with correct specification & documentation for your specific project.
Request Check
Thermal & Condensation Calculation
Demonstrating the thermal performance of a building element, or that the specified construction does not carry an interstitial condensation risk, are important steps in the design and approval process. Get project specific calculations with this service.
Request Calculation