BIM Objects Now Available
New BIM Systems & Components Now Available
Our new range of Performance Specifications & BIM content, covering our Condensation Control Membranes, Internal Airtight Barriers, Acoustics Flooring Solutions, Ground Gas Protection Systems & Thermal Insulation range is now available in a combination of Revit Project files (.rvt), Revit Detail Component files (.rfa), Industry Foundation Class files (.ifc) & PDF format.
System families in Revit are used to create a 3D representation of the basic building elements of your project including floors, walls, and roofs etc. The A.Proctor Group system families consist of Internal walls, ground floors, floating floors, roofs and wall linings, all spatially correct containing in-depth manufacturer and material data. Use a suitable A.Proctor Group system family to help build your project. Detail component families in Revit are essentially 2D CAD blocks used to overlay 3D model space to create finer details when required.
BIM Objects User Guide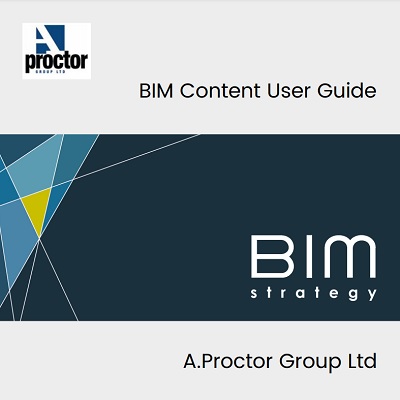 Download our BIM Objects User Guide to make sure you get the most out of our range of BIM Objects.
Download Brochure
Performance Specifications
| Product | Format |
| --- | --- |
| Cladshield Performance Specification | PDF |
| Facadeshield UV Performance Specification | PDF |
| Fireshield Performance Specification | PDF |
| Frameshield 100 Performance Specification | PDF |
| FramePro W1 Performance Specification | PDF |
| Plusboard Performance Specification | PDF |
| Plusfloor Performance Specification | PDF |
| Procheck 125 Performance Specification | PDF |
| Procheck 300 Performance Specification | PDF |
| Procheck 500 Performance Specification | PDF |
| Procheck Adapt Performance Specification | PDF |
| Procheck FR200 Performance Specification | PDF |
| Profloor Dynamic Battens Performance Specification | PDF |
| Profloor Dynamic Deck Performance Specification | PDF |
| Profloor Excel Batten Performance Specification | PDF |
| Profloor Excel Deck 31 Performance Specification | PDF |
| Profloor Levelling System Performance Specification | PDF |
| Profloor Micro Deck 17 Performance Specification | PDF |
| Profloor Solo Battens Performance Specification | PDF |
| Profloor Solo Deck Performance Specification | PDF |
| Profoil 861 Performance Specification | PDF |
| Protech GM PP Performance Specification | PDF |
| Protech GM Super Performance Specification | PDF |
| Protech VOC Flex Performance Specification | PDF |
| Provoid 25 Performance Specification | PDF |
| Reflectashield TF 0.81 Performance Specification | PDF |
| Reflectatherm Plus Performance Specification | PDF |
| Reflectatherm Premier Performance Specification | PDF |
| Roofshield Performance Specification | PDF |
| Spacetherm CBS Performance Specification | PDF |
| Spacetherm Directfix Performance Specification | PDF |
| Spacetherm Multi Performance Specification | PDF |
| Spacetherm Performance Specification | PDF |
| Spacetherm Wallboard Performance Specification | PDF |
| Spacetherm WL Performance Specification | PDF |
| Wraptite FZ Performance Specification | PDF |
| Wraptite Performance Specification | PDF |
BIM Objects - Condensation Control - Timber Frame - External
| Product | Format | |
| --- | --- | --- |
| Fireshield | RVT | IFC |
| Frameshield-100 | RVT | IFC |
| Facadeshield-UV | RVT | IFC |
| Wraptite | RVT | IFC |
| Wraptite Taped OSB Joints | RVT | IFC |
| Wraptite Taped OSB Joints with Wraptite Overlay | RVT | IFC |
BIM Objects - Condensation Control - Roofing
| Product | Format | |
| --- | --- | --- |
| Roofshield - Cold Roof, Tiles, No Sarking | RVT | IFC |
| Roofshield - Cold Roof, Tiles, Ply Sarking | RVT | IFC |
| Roofshield - Warm Roof, Slate, Softwood Sarking | RVT | IFC |
| Roofshield - Warm Roof, Tiles, No Sarking | RVT | IFC |
| Wraptite - Warm Roof, Slates, Softwood Sarking | RVT | IFC |
| Wraptite - Warm Roof, Tiles, Ply Sarking | RVT | IFC |
BIM Objects - Condensation Control - Steel Frame
Product
Format
PC125/Facadeshield
RVT
IFC
PC125/Wraptite
RVT
IFC
PC125/WraptiteTapeOverJoints
RVT
IFC
PC125/Fireshield
RVT
IFC
PC300/Facadeshield
RVT
IFC
PC300/Wraptite
RVT
IFC
PC300/WrapttieTapeOverJoints
RVT
IFC
PC300/Fireshield
RVT
IFC
PC500/Facadeshield
RVT
IFC
PC500/Wraptite
RVT
IFC
PC500/WraptiteTapeOverJoints
RVT
IFC
PC500/Fireshield
RVT
PCFR200/Facadeshield
RVT
IFC
PCFR200/Wraptite
RVT
IFC
PCFR200/WrapttieTapeOverJoints
RVT
IFC
PCFR200/Fireshield
RVT
IFC
Wraptite
RVT
IFC
Wraptite/Facadeshield
RVT
IFC
Wraptite/WraptiteTapeBoardJoints
RVT
IFC
WraptiteTapeBoardJoints
RVT
IFC
BIM Objects - Ground Gas Protection
| Product | Format | |
| --- | --- | --- |
| Beam&Block/Membrane Over Slab - GM Super | RVT | IFC |
| Beam&Block/Membrane Over Slab - VOC Flex | RVT | IFC |
| Raft Slab/Membrane Over Slab - GM Super | RVT | IFC |
| Raft Slab/Membrane Over Slab - VOC Flex | RVT | IFC |
| Raft Slab/Membrane Over Slab - Provoid/PC125 | RVT | IFC |
| Raft Slab/Membrane Under Slab - GM Super | RVT | IFC |
| Raft Slab/Membrane Under Slab - SAGM | RVT | IFC |
| Raft Slab/Membrane Under Slab - VOC Flex | RVT | IFC |
| Raft Slab/Membrane Under Slab - Provoid | RVT | IFC |
| Suspended Slab/Membrane Over Slab - GM Super | RVT | IFC |
| Suspended Slab/Membrane Over Slab - VOC Flex | RVT | IFC |
| Suspended Slab/Membrane Under Slab - GM Super | RVT | IFC |
| Suspended Slab/Membrane Under Slab - VOC Flex | RVT | IFC |
| Suspended Slab/Membrane Under Slab - Provoid | RVT | IFC |
BIM Objects - Spacetherm
| Product | Format | |
| --- | --- | --- |
| Floors - Spacetherm Multi | RVT | IFC |
| Masonry Wall - Spacetherm Direct Fix | RVT | IFC |
| Masonry Wall - Spacetherm Multi | RVT | IFC |
| Metal Framing - Spacetherm CBS | RVT | IFC |
| Timber Frame - Spacetherm CBS | RVT | IFC |
| Timber Frame - Spacetherm Wallboard | RVT | IFC |
| Masonry Wall/Timber Straps - Spacetherm Wallboard | RVT | IFC |
Detail Components - Acoustics
| Product | Format |
| --- | --- |
| FFT1 Dynamic Batten | RFA |
| FFT1 Excel Batten | RFA |
| FFT2 Levelling Systems | RFA |
| FFT3 Profloor Dynamic Batten | RFA |
| FFT3 Excel Batten | RFA |
| FFT3 Solo Batten | RFA |
| FFT5 Dynamic Deck 26 | RFA |
| FFT5 Excel Deck 31 | RFA |
| FFT5 Micro Deck 17 | RFA |
| FFT5 Solo Deck 23 | RFA |
Detail Components - Condensation Control
| Product | Format |
| --- | --- |
| Roofshield Cold Roof Eaves | RFA |
| Roofshield Cold Roof Ridge | RFA |
| Roofshield Warm Roof Eaves | RFA |
| Roofshield Warm Roof Ridge | RFA |
| Steel Frame / Rainscreen - Plan | RFA |
| Steel Frame / Rainscreen - Section | RFA |
| Timber Frame / Internal Membrane - Plan | RFA |
| Timber Frame / Internal Membrane - Section | RFA |
| Timber Frame / VCL Internal - Plan | RFA |
| Timber Frame / VCL Internal - Section | RFA |
Detail Components - Spacetherm
| Product | Format |
| --- | --- |
| Floor - Spacetherm Multi - Section | RFA |
| Wall - Spacetherm Direct Fix - Plan | RFA |
| Wall - Spacetherm Direct Fix - Section | RFA |
| Wall - Spacetherm Multi - Plan | RFA |
| Wall - Spacetherm Multi - Section | RFA |
| Wall - Spacetherm Wallboard - Plan | RFA |
| Wall - Spacetherm Wallboard - Section | RFA |
| Steel Frame - Spacetherm CBS - Section | RFA |
| Timber Frame - Spacetherm CBS - Plan | RFA |
| Timber Frame - Spacetherm CBS - Section | RFA |